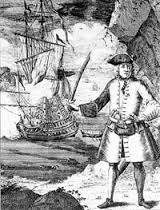 Henry Every (or Avery) is remembered for capturing the richest pirate prize ever and also for apparently being wise enough to retire from the business and enjoy his ill-gotten gains.
He was born in the West Country of England, famous for providing England with a large percentage of its seafarers. He served briefly in the Royal Navy, and then moved on to the slave trade, where the pay was better although dishonorable.
In 1693, he was serving as first mate on the Spanish privateer Charles II when the crew became disgruntled and mutinied. The ship was renamed Fancy and Every was elected captain. After plundering ships off West Africa, they moved into the Indian Ocean.
In 1695, the Fancy had reached the Red Sea and joined up with a number of other pirates. They launched an uncoordinated attack on the Mughal treasure fleet that included the main treasure ship Ganj-i-sawai and the smaller Fateh Muhammed.
Thomas Tew, commanding the pirate sloop Amity, was killed in an attack on the Fateh Muhammed. The Mughal ship, though, had incurred significant damage from that attack and was unable to withstand a second attack by Every on the heavily-armed Fancy. Every then turned his attention to the even larger Ganj-i-sawai, capturing it also.
The pirate crew was incensed by the damage inflicted by the Indian vessels and promptly tortured and killed most of the Indian sailors and soldiers on board. They also attacked the Indian women on board, many of whom committed suicide to escape their fate.
The treasure on the two Indian ships was enormous, with an estimated value of £600,000. Every's share made him the richest pirate in history.
Because Britain was seeking good relations with the Mughal Empire, it launched a worldwide manhunt for Every and his crew. They had fled to the Bahamas, where they divided the treasure and split up. Many, though, were eventually captured, tried, convicted, and hanged.
Henry Every was never heard of again. Rumors circulated that he had changed his identity and assumed a quiet life back home in the West Country, but there was no evidence to support the story.
http://www.maritimeprofessional.com/blogs/post/henry-every-14871