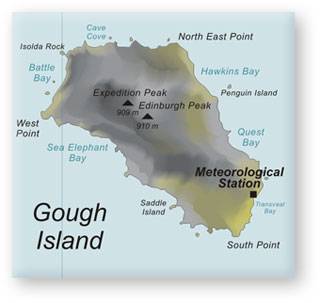 Gough Island in located in the South Atlantic Ocean, somewhat closer to Africa than to South America, being 2,000 miles from South America while a mere 1,500 miles from Africa. It is about 250 miles south-southeast of the Tristan da Cunha group. It is part of the United Kingdom Overseas Territory of St. Helena, Ascension, and Tristan da Cunha.
There is no permanent human habitation except for a six-person meteorological team from South Africa that changes out with new individuals each year.
The island and its outlying rocks cover approximately 35 square miles. The highest elevation, Edinburgh Peak, rises to a height of almost 3,000 feet.
The island was discovered by Gonçalo Álvares in 1505 when he nearly bumped into it while on a voyage from Portugal to India. It was visited briefly by an English mariner in 1675 and then neglected until 3 March 1732 when it was visited and accurately charted by the British merchant Charles Gough.
During the nineteenth century Gough Island was occasionally visited by sealers. It was formally claimed by the UK in 1938.
Due to its minimal human contact and its distance from large landmasses, Gough Island is one of the least-disrupted marine ecosystems in the cool temperate zone. There are no indigenous mammals and the last rats have been eradicated. It is home to one of the largest colonies of sea birds and to two endemic species of land birds – the almost flightless Gough moorhen and the Gough finch. There are also twelve endemic species of plants. The island hosts 22 species of seabirds, including albatrosses and petrels, as well as penguins.
It is of volcanic origin, sharing the same submerged mantle plume as Tristan da Cunha, but is composed of more ancient material described as of Large Low Shear Velocity Providence (you have to admire the ingenuity of geologists to come up with such a term).
While the volcano on Tristan da Cunha is active, the one on Gough Island is long extinct.
http://www.maritimeprofessional.com/blogs/post/gough-island-14879